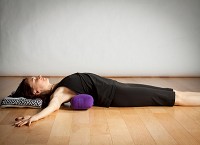 Saturday, July 21
11:30am-1:30pm
$35.00
Pre-registration Required
Class limited to 10
We will weave together a series of mindful movements inspired by our breath and drop into supportive Restorative poses for moments of stillness in which you will experience, quiet, deep relaxation, calmness and a inner connection of body/ mind/ spirit.
This Summer practice will include 2 segments:
MINDFUL BREATH INSPIRED MOVING PRACTICE: A sequence of yoga poses with awareness not only on your muscular and skeletal body, but on your organs as well. Deepen the benefits of your yoga practice with an awareness of the nurturing effect of particular organs while experiencing a particular asana. Release deeply held tension and stored body heat with "cooling" asanas .
RESTORATIVE POSES in EXTENDED STILLNESS: Release activity of the body and mind while supported by bolsters, blocks and blankets. Conscious rest in stillness opens a pathway for the body and mind to receive the benefits of "the relaxation response." Balance the depleted and over extended energies we use to meet the heat of the days, and soothe the mental body to allow your inner sunny spirit to shine forth to guide you forward in the days ahead.

Life is a journey - let your light shine!
Sign up now (click on workshops & events tab)
About Cecelia Rice
Cecelia is a 500 hour Registered Yoga Teacher. She has worked in the field of the Healing Arts since 1987 while enjoying a career as an interior designer and artist. She is a "Relax and Renew" Trainer, an Intuitive and is certified in the energy healing modalities of Healing Touch, Reiki, The Yogic Breath and Journey to the Self/Way of the Healer.

In 2001 Cecelia became a full time yoga teacher influenced by the principals of Iyengar and Ansuara Yoga. She invites her students to go beyond the outer shape of the asana and to journey into a deeper inner experience embracing the breath and mindfulness as guides. Her work with cancer patients, clients with Multiple Sclerosis and those seeking respite from the stresses of life led her to Judith's teachings in "Relax and Renew". She found her life's passion and now devotes the majority of her time teaching Restorative Yoga as well as continuing her studies with Judith Lasater.

She describes her clients' experience to Restorative Yoga to be luxurious and deeply restful. A shift of energy occurs within one's "Stillpoint" that awakens the body's innate healer which then creates authentic awareness and brings balance to one's physical, mental and emotional body.

Cecelia leads workshops, group classes and private sessions throughout the Hampton Roads area.
Tuesday, July 10, 2012 at 5:44PM
|
Categories:
Workshops & Events
Tags:
Restorative Yoga
organs